HOGY uses a fabric, that is impermeable to bacteria, liquids, and viruses.......
.............At the same time, offers better breathability, is pleasant to the touch and comfortable to wear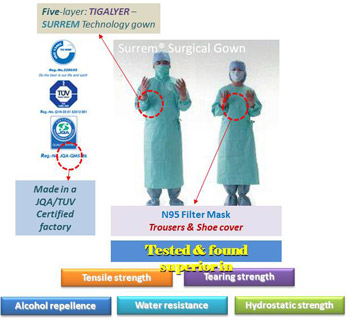 HOGY® surgical gowns and drapes are considered to be the superior most in technology as these products provide the best balance of safety to the surgeons and scrub nurses while making their movement comfortable as well.
The advantageous Tigalyer and Surrem technology gives the impermeability thereby offering the best protection from patient-body fluids coming into contact with them thereby preventing occupational hazard of infections to operation room personnel.
The HOGY gowns are not machine stitched and therefore there are no pin-holes in the gown making it leak proof and this product is the largest selling one in Japanese market for several decades.