HOGY's Unique technological Advantages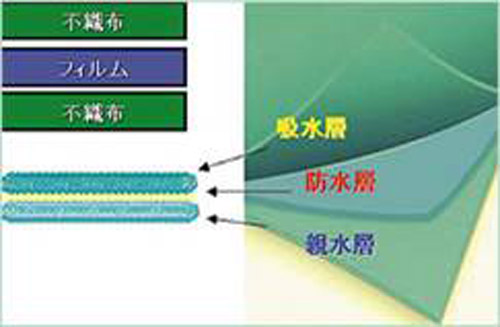 Tigalyer is a non-woven fabric with very high liquid barrier properties.
Tigalyer™ is a multi-layer fabric consisting of three layers which each layer made of a different material where the front layer is absorptive, the middle layer is waterproof, and the back layer is hydrophilic.
The front and back layers polyethylene and polyester bicarbonate spunbonded nonwoven fabric that both
the softness of the polyethylene and the strength of the polyester and has been processed to be both water absorbing and hydrophilic. The middle waterproof layer is a polyethylene film that provides strength and is a barrier to liquids.

(1)Has a high water barrier performance that passes the PB70 Level 4 standard of ANSI/AAMI (American National Standards Institute/Association for the Advancement of Medical Instrumentation).
(2)This material combines high softness and toughness.
(3)The characteristics of the material greatly suppress the generation of lint.
(4)Allows for safe electron beam sterilization.
Surrem produced by a new method of manufacture has 5 layers of "SSMMS" in difference from usual SMS.
This gown offers the pliability of cotton with better breathability. It is pleasant to the touch and comfortable to wear. It is also very rugged and can be worn for extended periods of time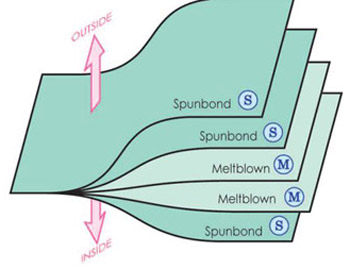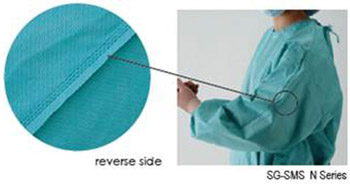 5 layer fabric structure
No pin-hole by ultrasound sealing
High durability and strength
No linting
High alcohol resistance
High barrier for microbes to penetrate Good feeling of wearing and moving