"The most remarkable Formaldehyde-gas disinfector"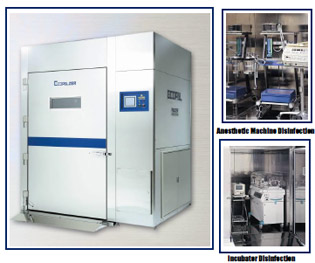 1. Short Time Processing - One Operation 210~240min.
2. Low Running Cost - Pharmaceutical expense + Electricity Bill=AroundUS$12
3. Harmless to Environment
4. Guarantee of Operator Safety
5. Easy Operation - By touching screen display according to purpose of use
6. Various Objects such as Mattress, beds and Anesthetic Machines.
The liquid crystal color touch panel for the final controlling element.
The screen display with the interactive system allows for easy operation. Sterilization process, the remaining time and any information are comprehensibly displayed. In addition, the pressure and the temperature in the process are indicated in the graph.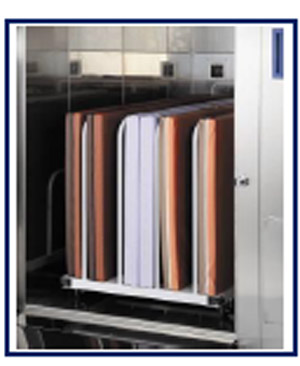 D & D system Decomposition & Detoxification

Disinfectant gas emission to the outside will cause environmental pollution. Needless to say ; the storng odor and inhalation of residual formaldehyde-gas is harmful to health.
D&D System , developed with environmental preservation in mind, is radical system making detoxification and deodorization of -gas possible in a short time. D&D System has changed the future of formaldehyde-gas
HE Standard Equipment ECOPAL
Type

Size(wide×depth×height)mm

Main voltage

objects

HE-3E

Out    2000×2650×2285

In   1200×2300×1800

Three phase

200V /50A

Beds, Mattress, Incubator,
Anesthesia apparatus ,
Other medical apparatus

PS-140P

Out    2150×2400×2285

In   1200×2300×1800
Test Results
by Japan institute of Foods Ecology, Inc.  Dec,20th 2006
Purpose         Test of Bacterial Effect
Sample           Incubator "Bacillus Atrophaaeus(ATCC9372) ACE test Biological Indicator
Sterilization Formaldehyde gas
Condition      47℃ whole process time 240min.
Use Model     HE-3E
test

24H
Later

48H
Later

72
HLater

Results

No.1

-

-

-

Perfect

No.2

-

-

-

Perfect

No.3

-

-

-

Perfect

No.4

-

-

-

Perfect

constant

+

+

+

imperfect